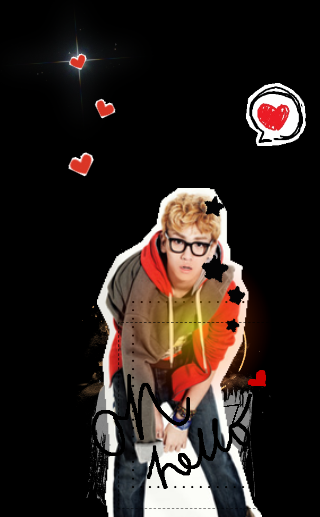 Forever Shawol. Locket. Vip. Kiss Me. I am. Blackjack. Jaywalker. Lady Gaga. K-Dramas. BOF. Your Beautiful. Playful Kiss. Dream High. Personal Taste. Anime. Soul Eater. Bleach. Death Note. Ouran High School Host Club. Black Butler. Cartoons. Adventure Time. Ordinary Show. Pokemon. I Love My Loves. Key. G-Dragon. Kevin. Eli. Kim Hyun Joong. Park Jung Min. Heechul. Ren. Kai. CL. Amber. Candy. Skittles. M&M. Chocolate. Food. Rice. Panda Express. Nutella. Thai Tea. Chicken. Noodles. Filipino. Cali. Fanfics. Asian Fashion. Domo. Music. Pandas. Love. Movies. Spirited Away. Kingdom Hearts♥. Talk to me you guys(:. SHINee Will Forever Have my Heart ~♥♥
Idiots I tell you (but they are adorable otl)
(Source: jinklejun)
even a dragon is blushing by the splendour of a Kim Minseok!
Honest or Liar? Kris: Chen, are you a liar?
Chen: Yes
Kris: So you're not an honest person?
Chen: Yes I am.
Chen: Only an honest person would admit they're a liar...
Kris: Oh wow. That's true...
Chen: But only a liar would say they are honest...

1
2
3
4
5
→